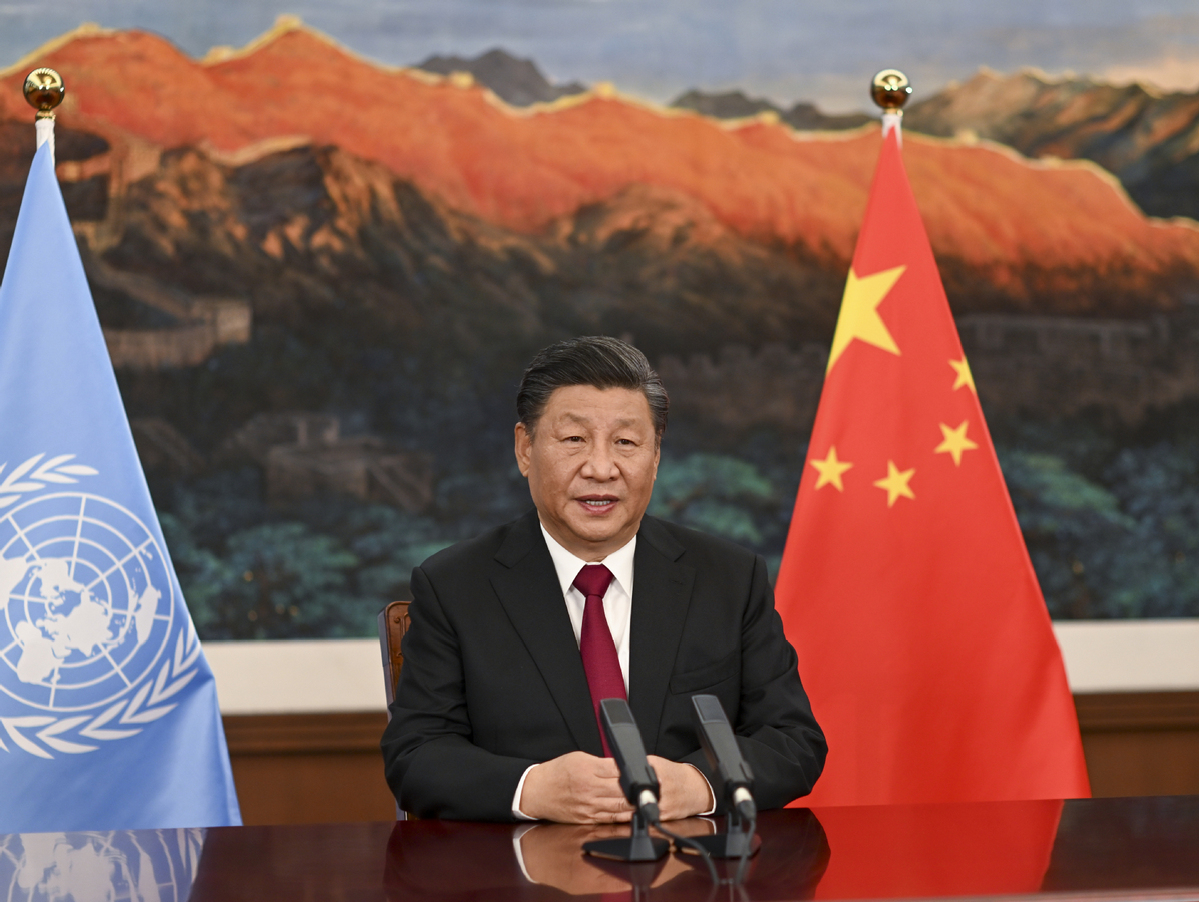 President Xi Jinping addresses the leaders' summit of the 15th meeting of the Conference of the Parties to the Convention on Biological Diversity, which was held in Kunming, Yunnan province, via video link from Beijing on Tuesday. LI XUEREN/XINHUA

President stresses harmonious coexistence of man and nature
President Xi Jinping's address to the COP 15 leaders' summit on Tuesday demonstrated China's resolute determination to promote global environmental governance as a major responsible power and will inject strong political momentum into the global biodiversity conservation process, experts said.
They made the remarks following Xi's keynote speech at the summit during the 15th meeting of the Conference of the Parties to the Convention on Biological Diversity, or COP 15.
"As a Chinese saying goes, 'All beings flourish when they live in harmony and receive nourishment from nature'," Xi said.
"Biodiversity makes Earth full of vigor and vitality, and lays the foundation for human survival and development."
The president stressed that man and nature need to coexist in harmony, saying, "We need to have deep reverence for nature, respect nature, follow nature's laws and protect nature."
With the theme "Ecological Civilization: Building a Shared Future for All Life on Earth", the summit in Kunming runs until Friday and will resume in the first half of next year.
Ecological civilization is a concept Xi promotes for balanced and sustainable development that features the harmonious coexistence of man and nature.
Huang Runqiu, minister of ecology and environment, said Xi's speech demonstrated China's determination to jointly promote global environmental governance and biodiversity conservation with the international community.
He said what impressed him most is that Xi put forward the visions to build a homeland of harmonious coexistence between man and nature, coordinated advancement of the economy and the environment and the common development of all countries.
These visions are advanced "from the perspective of mankind's sustainable development and building a community with a shared future for humanity", he said. They not only echo the theme of COP 15 but also are in line with the UN's sustainable development goals.
Huang said the president also set out a blueprint and road map for the world's high-quality development with four proposals. In addition to featuring harmonious coexistence between man and nature, this development should see people's well-being, social equity and justice increasingly strengthened and the international governance system becoming more fair and equitable.
"The four proposals have further deepened and developed the concept of sustainable development," Huang said.
Zhang Yongsheng, director of the Research Institute for Eco-civilization at the Chinese Academy of Social Sciences, said the four-point proposal is "a crystallization of China's wisdom in exploring a sustainable development path" as well as a major change in its development concepts and models.
"In particular, when Xi proposed to 'start a new journey of high-quality development for humanity', he was actually sharing China's wisdom with the world," Zhang said.
"Especially for developing countries, I think this is very important." High-quality development, he said, means moving away from the traditional and unsustainable perspective of industrial civilization and redefining the quality of development from the perspective of ecological civilization.
"I believe this will greatly boost global confidence in dealing with biodiversity and environmental issues, and promote the progress of global biodiversity conservation and sustainable development," he added.
Dimitri de Boer, chief representative for China of ClientEarth, an environmental law charity, said the president's speech will hopefully inject political momentum into the world's biodiversity conservation process.
He said much remains to be done to achieve the objective of the Convention on Biological Diversity for humans to live in harmony with nature by 2050.
"President Xi's new commitments today are significant, and will hopefully inspire further political momentum within China and internationally," he said.
Xi announced China's initiative to establish a Kunming Biodiversity Fund and take the lead by investing 1.5 billion yuan ($233 million) to support biodiversity protection in developing countries.
De Boer said he expected to see the investment leverage more financial resources to cope with global biodiversity losses.
Far too little financial resources are currently made available for biodiversity conservation, especially in the developing world, he said. The availability of sufficient financial resources, however, could be the key to securing an ambitious and realistic post-2020 global biodiversity framework, which is the task for COP 15.
Financial resources
"With its financial commitment, China joins a number of countries and private actors in providing large amounts of financial resources, which will hopefully further spur other countries to step up their level of resource mobilization, especially the rich, developed nations," he said.
Gao Jixi, director of the Ministry of Ecology and Environment's Satellite Application Center, said Xi's remarks sent out "the strongest voice of biodiversity protection to the world".
"This is the first time that a leader of a major country clearly points out the direction and path of biodiversity conservation, and sets out major measures for biodiversity conservation."
President Xi announced to the world China's important responses on biodiversity conservation and climate change, showing the country's determination and confidence in such fields and its responsibility and leadership as a major country, Gao said.
From : China Daily
Author:本站 Page Views : 27