On September 2, China CDM Fund Management Center (hereinafter referred to as "the CDM Fund") signed Green Financial Cooperation Agreement with Industrial Bank to jointly build up clean development and green financing innovation mode, with the aim to support national efforts in combating climate change and facilitate local green and low-carbon transformation. Besides, the first clean development concessional loan project of Zhejiang Province that guaranteed by Industrial Bank was implemented in Wenzhou, Zhejiang.
The CDM Fund, a policy-oriented fund established upon national approval and operated in market fund approach, adopts concessional loan, equity investment, financing guarantee and other tools to support domestic industrial activities that can benefit the combat against climate change. And providing policy concessional loan at an interest rate 20%-25% lower than the benchmark is the major tool for the investment business of the CDM Fund.
According to the Agreement, focusing on the objectives of national ecological and environmental-protection planning and energy-saving and emission reduction goal, the CDM Fund will give full play to its guidance and leverage roles as well as Industrial Bank will take advantages of its green financial service capacity and professional skills to together construct the clean development and green financing innovation mode and promote business cooperation and product innovation in green investment and financing, green bonds, green financial management and other aspects, so as to enhance professional capacities and service efficiency in green financial field and provide capital with low cost to green and low-carbon industries.
It's the first time that the CDM Fund reached cooperation with the head office of Industrial Bank in national wide. Beside the core business of clean development and green financing innovation mode, the cooperation also covers green financial product service, capital management, professional research and capacity construction and so on. According to the introduction delivered by General Manager Luo Shiyi of Green Financial Department of Industrial Bank,targeting at the construction of clean development green financing innovation pattern under joint efforts, the Industrial Bank will provide financing support to projects in three cooperation patterns: the first is undertaking the concessional loan business of the CDM Fund for entrusted loan banks; the second is to make guarantee for capital from the CDM Fund, ensuring policy fund security while at the same time supporting low-carbon clean projects; and the third is to provide loans to enterprises together with the CDM Fund and meanwhile guarantee capital financed by the CDM Fund.
The New Energy Bus Procurement Project of Wenzhou Transport Group Co., Ltd. carried out in Wenzhou, Zhejiang belongs to one of the third cooperation pattern. The CDM Fund provides RMB 69 million loan to the project with a five-year concessional loan with an interest rate 25% lower than benchmark of accounting up 29.46% of the total project investment. Industrial Bank provides guarantee for the loan and at the same time issued a loan of RMB 11,800 to the enterprise. All the above-mentioned loans were used to purchase 333 new energy buses, meeting the capital demand by replacing traditional fuel buses, lowering financing costs of enterprises and supporting the blue sky protection campaign by Wenzhou. When the project is implemented, it's estimated that 1,932 tCO2e of carbon dioxide emission can be reduced annually.
In the future, according to the Agreement, both parties will hand in hand promote green financial commercial mode innovation and innovative product development, practice relevant national work tackling climate change and cooperate to carry out researches on and formulation of standards related to green finance, so as to make constant improvement of capacity construction and promote the development of ecological civilization.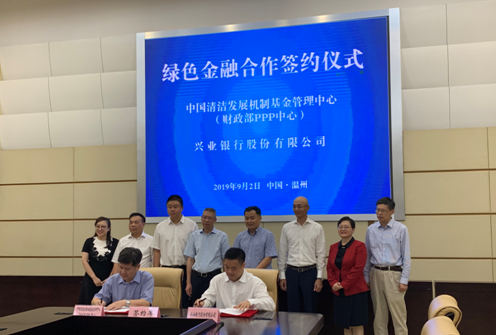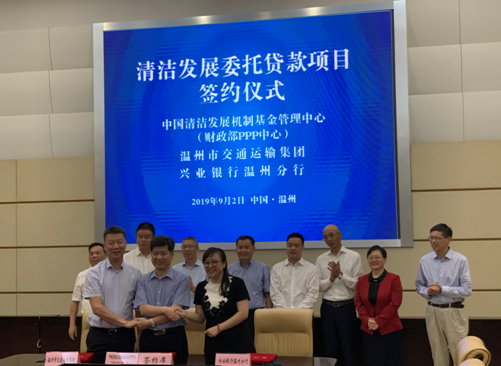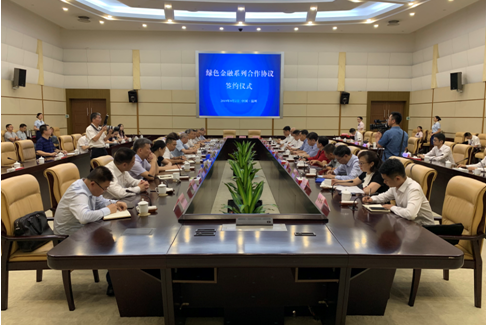 From :
Author: Page Views : 188