On June 30, Executive Director of Green Climate Fund (GCF) Mr. Howard Bamsey, paid a visit to China Clean Development Mechanism Fund Management Center (hereinafter referred to as the Management Center) to communicate the application of National Implementing Entity (NIE) of GCF. A talk was held between Director General (DG) Jiao Xiaoping and Mr. Bamsey, with participation of concerned staff engaging the specific application work.
On behalf of the Management Center, DG Jiao Xiaoping welcomed Mr. Bamsey and extended sincere gratitude to the GCF Secretariat for its support and guidance shown in the application work. He also emphasized that it's a key period for global efforts in addressing climate change and China's leaders had expressed China's determination on many occasions. The CDM Fund, as a national creative mechanism in combating climate change and under the guidance of the Board composed of seven ministries, is playing an important role in conducting market oriented business to leverage market capitals and promote the green and low carbon development in China. As the only operating entity for the business of the CDM Fund, the Management Center holds the same aims and ideas with GCF. Being a NIE can not only introduce the advanced concepts and good practices of GCF into China, and improve CDM Fund's business, but also share China's experience within GCF family to further promote global actions. Hence, the application has gained support from Ministry of Finance.
Mr. Bamsey praised China's great contribution in addressing climate change and recognized the important role of the CDM Fund. He thinks that it will be very helpful of expanding GCF's business if the Management Center can become GCF's NIE.
During the meeting, the Management Center made a roadshow about the application. Then, both sides exchanged understanding about further application work. Mr. Bamsey said that the Management Center had already made concrete preparation for application and GCF is willing to keep contact and push forward the accreditation process of the application.
DG Jiao expressed the appreciation for Mr. Bamsey's support and his constructive suggestions. He thought all of this would contribute a lot to the next step application effort. The Management Center will improve its institutional and business capabilities according to GCF's criteria and do best for the accreditation.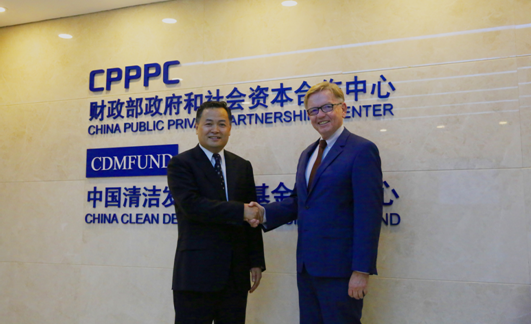 From :
Author: Page Views : 174